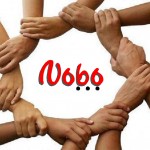 You may have heard of the saying that behind a great establishment is great leadership. However at the same time, have you heard of the expression that behind a great member is a great team? If not, it's because this ideal was coined here at Nobo. We strongly believe that it takes many helping hands, not just the hands of a few, to support the longevity of an establishment. At Nobo, we trust in teamwork, but more importantly, we trust in each other. This transpires to how our customers feel about our business. We are committed to fostering a diverse and accepting culture where both sense of individuality as well as community share equal importance. Each of our members – from the kitchen and sushi bar to our service and bar staff – add their own spice to the international team. Come and meet each of our members and learn about each of their story.
We always welcome talented and motivated professionals who share Nobo's passion for exceptional food and service. If you fit our culture, feel free to contact us here or drop by to introduce yourself.
Meet the Visionaries
Just like concocting a solid recipe, our management team is comprised of a mix of talent and ideas brought to the table. You will find that we are very passionate about the community, our staff and what Nobo represents. Most importantly, we enjoy each other's company and respect each other's contributions, which are often overlooked in strong partnerships. You could say that our collaboration is almost like kinship! Meet our partners here:
Theresa Yu
General Manager, Co-Owner
"Experience has taught me to trust my instincts when it comes to making decisions. Running a business is no easy feat, but neither is choosing where one wants to dine for the evening. Just listen to the gut and the stomach for both and it will keep you quite satisfied." – Theresa
Food and family are the two passions that guide Theresa in life fulfillment. That is why her commitment to the Nobo venture is the perfect combination for the matriarch and GM who believes that a career in food service is truly her lifelong calling. With over 20 years of experience in almost all facets of restaurant operations, Theresa has solid confidence in her vision for managing Nobo. She has opened a number of successful restaurants in the past with her husband in New Hampshire and she welcomes the challenge to share her expertise with Nobo and continue her pursuit of the American Dream. Never one to be afraid to take risks, Theresa keeps a very open mind in her concept for being a hands-on manager. Her exceptionally high expectations and standards for quality will ensure an extraordinary dining experience for you.
Jon Yu
Operations Manager, Co-Owner
"We are able to exceed in quality, consistency and efficiency with a small business like Nobo by maintaining a personal touch to each dish that we present at the table. We are not a chain, so instead of emphasizing standard processes, we prefer to uphold high standards." - Jon
As co-partner and Operations Manager of Nobo, Jon always had a mission to share his culinary passion for fine cuisine with others. In particular, his appreciation for the effort that goes into the art of sushi preparation emulates Jon's approach to running operations at Nobo behind the scenes. As a perfectionist with a meticulous eye for detail, Jon spent years in the analytical world of corporate finance before making the leap to apply his untapped skills in the restaurant setting in which he was raised. His craftsmanship in operations was groomed from his experience as a restaurant kid growing up in his parents' restaurant ventures and experiencing firsthand the hard work required to run a business. These days, he enjoys working alongside his partners to leverage his past experiences and his curiosity for current culinary trends to concoct the perfect recipe for success at Nobo.
Julian Yu
Dining Manager, Co-Owner
"A smile is the essential ingredient in any hospitality setting. The lights, food, décor, and ambiance represent the character of an establishment. But it's the smile that is truly authentic from the heart. If it comes from the customer especially, then that's the best compliment I can get."  - Julian
Julian will most likely be one of the first friendly faces to greet you when you enter Nobo. As Dining Manager, Julian believes that running a restaurant is truly a people business, and the soul of the establishment is kept alive through a solid team of service professionals. He encourages open communication with his team and guests, always being the person others can go to. "I treat others the way that I would want to be treated," says Julian, "and this expectation applies to how we lavish our guests the same way as if we were being served ourselves." To accomplish this, he consistently challenges his staff to push the boundaries of customer service and to create memorable dining experiences for Nobo's patrons.