As our moniker implies,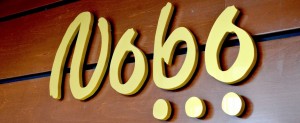 Nobo is redefining Japanese and Asian cuisine across all cultural borders with our "NO BOundaries" approach. Creating a premier dining destination for our guests requires consistency in striving for above and beyond with our quality food, service and culture. We dare to push the limits with our culinary passion and encourage our customers to do the same.
 Food Quality and Taste
We work closely with our trusted local food sources and global partners to ensure that we get seasonally fresh seafood and produce. The consistently great taste of our sushi and classic signatures are reflective of our commitment to high standards. 
Communal Service
Leaving a lasting impression is ideal, but creating lasting relationships is more important. Each patron deserves personal attention which we strive to give through our dining interactions. We take communal service to another level.
             Artistic Presentation
Satisfying the sophisticated palate is our mission, but impressing the educated eye with both a culinary and visual feast is our passion. Nobo's long standing respect for the arts and creativity is apparent through our attention to culinary detail and architectural imagination. Our job is only truly done when we leave our customers with a mouthwatering and eye-catching experience.
Nobody does it like Nobo!