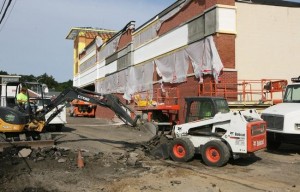 By Molly Loughman
mloughman@wickedlocal.com
Posted Aug. 15, 2014 @ 1:54 pm
Updated Aug 20, 2014 at 2:50 PM
CHELMSFORD – The former Stop & Shop and Marshalls plaza at 18 Boston Road will soon be revived into a new retail center after construction is finished this summer. Concord-based Winstanley Enterprises LLC purchased the 8.5-acre site during summer 2012 and began construction the following January. The real estate and investment company committed $4.5 million in renovation costs to transform the property into a retail space for the town's Center Village area. With some spaces filled, vacancies remain.
"We're about three weeks out from turning it over to the tenants for their internal work," said Winstanley Enterprises Senior Vice President Barbara Green. "Everything that's under the ground has been completed… They're working on finishing up the brick work… the exterior finish."
As for what's left, construction on the storefronts has also been begun, along with the installation of dumpster pads, sprinkler systems, the roof, front overhangs and landscaping. Next week, the pavement for the front sidewalk will be poured. The last finishing pieces are glass windows, which won't be put in for another few weeks, said Green. The new parking lot, offering 300 spots, will have LED lighting that will be installed next week, along with final paving.
Once totaling 63,000 square feet, the infrastructure size will be reduced to 41,000 square feet and flipped into a lifestyle-oriented, upscale retail center, featuring a total of seven stores. The first three leases signed for the retail plaza were Choice Fitness, an anchor tenant that will occupy 17,000 square feet of space, the Asian fusion cuisine NOBO Modern Japanese Restaurant & Bar, taking up 4,500 square feet, and the men's hair salon Sport Clips. In addition, the indoor children's play and party center Loch Ness Playcenter has recently signed on.
The first vacancy is a restaurant suite totaling 5,500 square feet. An adjacent suite amounts to 1,115 square feet, which can be put together into one large restaurant, totaling 6,750 square feet.
"We don't have a tenant for that, but we have a bunch of prospects. What we don't want to put in there is a chain-type restaurant. We want a more upscale restaurant and lounge that will really generate foot traffic in the area. We've been very patient with that, we really want to get the right fit," said Green, noting a regional or local tenant is an ideal candidate.
A 1,400-square-foot space is vacant, where a small restaurant or service related business could go. A 3,600-square-foot suite is also vacant.
With various materials and colors, the renewed building boasts a sophisticated and modern appearance, accentuated by a brick façade, a clock tower, all new storefronts, pedestrian-friendly circulation and updated landscaping. The uprooting of invasive plants and the removal of debris along Beaver Brook also took place at the retail plaza, which will also offers a patio area for al fresco dining, and other ornamental aspects to revitalize Chelmsford's downtown, as a part of its Master Plan.