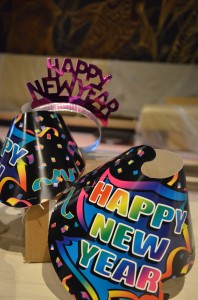 Happy New Year! We applaud those who make ambitious New Year's resolutions to start their year off on the right foot. Since we are also starting a new venture at Nobo in the New Year, we decided that it would be appropriate to create a New Restaurant's Resolution for our team. What is this, you may ask? A New Restaurant's resolution is simply a combination of a new beginning and a promise to do an act of self-improvement and/or fulfillment. After all, our business is personal to us and so what better way than to set personal goals that can be achieved through our goals with our new venture?
We admit that many New Year's resolutions can often fall short of completion as the year progresses, but we figure that if we come up with resolutions as a team, we will be motivated to support each other throughout the year. So with a little bit of faith and support, we present to you Nobo team's resolutions:
Eat healthier: Health is the single most important element in life and often the first step to self-gratification. With good health, the sky's the limit on what you can achieve. Hence why we have created a menu based on this ideology and our future menu items will continue to embrace this goal.
Spend more time with family: Work life balance is key to personal happiness. We're very fortunate at Nobo that we get the opportunity to work with people who we can call family. Our busy lifestyles often times discount our actual families so this has become a goal for all of us this year. Fortunate for us, Nobo is a place of gathering and we hope to be able to host you and your families this year.
Work Happy: Being in the service industry, we try our best to satisfy our guests. But to do that, we must be satisfied with ourselves. Embedded in our roots is the belief that a happy team equates to happy customers and we strive to live by that.
Get involved with the community: As a community-owned business supported by local friends, we are committed to supporting the community in return. Immerse yourself in giving back this year. Volunteer. Get involved in life.Say a kind word. Encourage someone. Pay a visit. Get away from self-absorption and we will all live a more fulfilling life.
Try Something New: Take the opportunity this year to expand yourself and try something new. At Nobo, we consider ourselves a modern Japanese restaurant because although some of our ingredients are of Eastern influence, much of our cooking and palate blends other cultural flavors together.
Create something great: Make this year a memorable one and each year greater than the last. This year, we aim to offer something great to the area with Nobo. It will be something fresh and something different than what we are all used to. But with hard work and dedication, we hope to evolve Nobo into an acclaimed landmark in Chelmsford.
And there you have it! Our New Restaurant Resolutions. We've set our goals, and hope you set yours. Let 2015 be a year to make things happen! Looking forward to seeing you all this year at our place.
Yours truly,
The Nobo Team